It is hard not to be a cynic. Put a less tortured way, it is easy to be a cynic.
The definition of the word "cynic" I have in mind is this from Dictionary.com:
a person who believes that only selfishness motivates human actions and who disbelieves in or minimizes selfless acts or disinterested points of view
I think the reason it is so easy for me to become a cynic is because I am often myself "motivated by selfishness." I often myself doubt "selfless acts and disinterested points of view." In other words, I am probably a cynic because I see those undesirable traits in myself and often ascribe those same motivations to others.
Cynicism can become so pervasive that you can come to disbelieve and doubt nearly everything. Most of us listen to political speeches this way. Everything Obama/Trump said/says is ascribed the worst possible motivations and intents. This is regardless of which side you are on. You may, in fact, become so cynical that you feel that way about all sides of an issue and about all representatives of those perspectives.
It is not confined to politics. It reaches into personal relationships where we simply do not trust that anyone is coming from a place of true sincerity or altruism.
Frankly, I am getting tired of cynicism. It is always easier to tear something down than it is to build it. The tools of the trade for the cynic include snide remarks, biting sarcasm, and derisive laughter. It is rather easy to be against.
Which is easier, constructing a high rise building or knocking it down with a wrecking ball?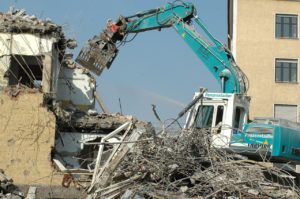 At some point the onus must be on me not just to sit back, criticize, and tear down. Once I have knocked everything down there will be no more buildings. At some point I need to start building something. It is not enough to just be against everything. I need to actually be for something.
Of course, when I begin building, the cynics will be there to knock down. Perhaps that is the real barrier to positive action? Perhaps the cynic believes that he or she can avoid being a target by always being the wrecking ball. That is convenient. It is also lazy and timid.
This is not an argument in favor of naivete. I realize that human beings ARE often motivated by selfishness and insincerity. It is the human condition. I have already acknowledged it in my own life. This is simply me recognizing the limitations of my cynicism and stating a desire to stop being so cynical. I have a responsibility to actually do something.
Don't just stand there – do something.
The real danger of cynicism is that it can devolve into pessimism. Pessimism unchecked can turn into depression and ultimately despair. What I need in my life is less pessimism and more optimism. I do not need unrealistic optimism, but I will take an extra helping of optimism nonetheless. Most of us are not anywhere near overdosing on optimism or hope.
Note: I thought of linking to Teddy Roosevelt's speech delivered at the Sorbonne in Paris in 1910 where he derides the critic and the cynic. However, I can envision someone reading this that will be cynical about his motivations for delivering the speech. If you want to read it, it is only a web search away. Search the phrase:
teddy roosevelt the man in the arena