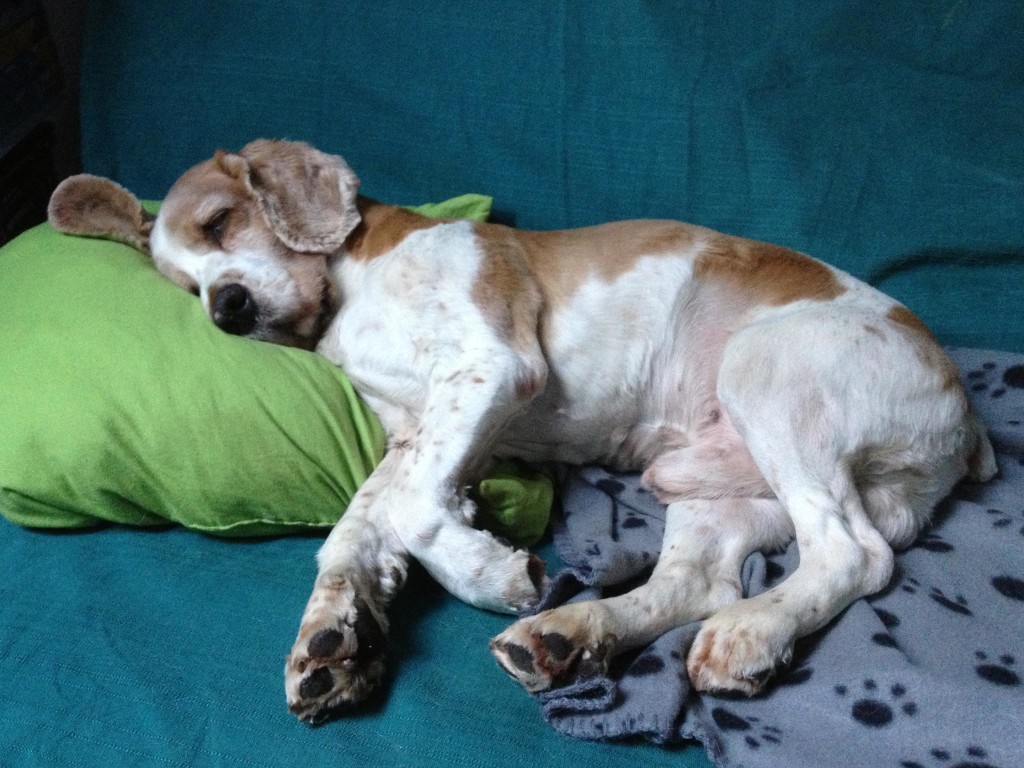 Most mornings my wife and I ask each other "How did you sleep last night?" Let me ask you: How did you sleep last night? The answer we give is usually a combination of how long (number of hours) and the quality (e.g. "tossed and turned" or "slept like a rock"). The reason this matters is because the length and quality of sleep has an impact on how well we function during the day. If I were concerned that you would not agree with that assertion, I could point you to a lot of research that demonstrates the importance of sleep and how it affects alertness and performance. That information is only a web search away. However, I have not yet met anyone who thinks sleep is unimportant.
Until the last few years I did not think seriously about sleep. I was a night owl who thrived when the sun set and who despised the ringing of the alarm clock. Now I care about sleep because I care about how well I function during the day.
My recent focus on sleep is part of an overall improvement in health that I undertook over four years ago. When I lost weight through nutrition and began exercising regularly, my sleep improved. As the weight dropped, my snoring stopped. Now that I care more about the length and quality of my sleep, I monitor it more. In addition to losing weight, here are three habits I have developed that improved my sleep:
1. Monitor It Using Technology – I use a phone app called Sleep Cycle. It is available for both iPhone and Android phones. My fiend Kevin Wilson told me about it. This app does two things really well. First, it tracks the length and quality of your sleep. Using your smart phone's accelerometer, the app tracks your movements in bed and correlates them to sleep phases. Each morning I can see what my sleep quality was (expressed in %) and the duration of time I was in bed (in hours and minutes). The second thing it does really well is wake me up. The app plays a low and soothing sound or a song from your music library to wake you up. The key is that the app waits to begin playing the music until you are in a light stage of sleep. Given that the music plays quietly while I am not in a deep sleep means that I awake much more easily and in a much better mood. I really cannot recommend this app too highly. Here is an example of a daily summary: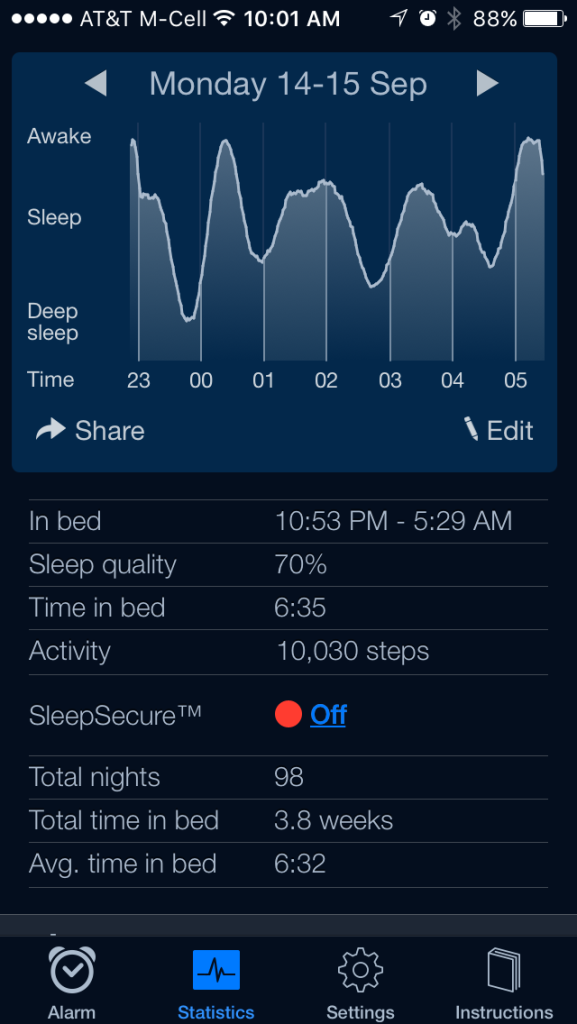 I love this quote from The Guardian on the Sleep Cycle app's alarm function: "The result is so gentle and lovely it feels like being woken up by a mermaid stoking your hair or a unicorn nuzzling your toes."
2. Eliminate Blue Light Before Bed – Before electric lights people generally started getting ready for bed when the sun set and awoke at sunrise. With the invention of electric lights, TVs, smart phones, etc. we have created the ability to have our eyes exposed to light well after sunset. The reason this matters is that our bodies begin producing melatonin when the lights go down. Melatonin is the sleep-inducing hormone produced by our bodies that impacts our circadian rhythms. While all light can inhibit melatonin excretion, blue light from electronics devices is especially detrimental. I try to eliminate blue light in the two hours before bed, but I have to admit that this is a challenge during football season.
3. Deep Breathing Exercise – About 30 minutes before bed I take one 400 mg tablet of magnesium glycinate. I take KAL – Magnesium Glycinate 400, 180 tablets brand, but just make sure it is magnesium glycinate instead of other chelates (like citrate).
I then get in bed and inhale and exhale very slowly eight times. This is not chest breathing, but "belly breathing." Put your hand on your stomach and feel it rise as you inhale. Inhale through the nose, not the mouth. Remember, this is not to be done quickly. It is slow.
When I get to the maximum inhale, I typically pause for a second or two before exhaling very slowly through the mouth.
Again, when the exhale is completed, I typically pause a second or two again before the next inhale through the nose.
After my eighth exhale is finished, I then read a book. I usually read a physical paper book, but an e-reader with no backlit screen would also work. In other words, I avoid blue light devices. It usually takes less than twenty minutes for me to get very sleepy and to click off the bedside light.  Also, I always sleep better when the room is completely dark.
A Word About Sleep Apnea & Jerrod Heard
Last week it was reported that Texas quarterback, Jerrod Heard, went to a sleep clinic and was diagnosed with sleep apnea. This was surprising to a lot of people because many believe that sleep apnea is an older person's challenge. Jerrod is in his early twenties and is in top physical condition. His openness about this continues to be a source of encouragement to many people to consider their own sleep. Sleep apnea is only one of many sleep disorders that people struggle with. Let me be clear about this: None of what I have written above about how I sleep better is going to correct a sleep disorder. If you are not waking up refreshed and ready for the day at hand, please speak to your doctor and consider doing a sleep study. Thank you to Jerrod for waking us all up to the fact that even young people can experience sleep disorders.
How did you sleep last night? Use the Comment button to share your thoughts and questions about getting a good night's sleep.