When I opened the mail yesterday there was an envelope with a handwritten note from my 7 year old nephew, Kase. Each year around Christmas we have him and the other nephews (and now a niece) over to make and decorate gingerbread houses. This is mostly my wife's event, but I love it and help out as well. When he was younger I remember Kase being afraid of dogs. So, it was a bit of a challenge for him to come to our house where we have 3 corgis.
Last December when Kase came over he really bonded with our female corgi, Fiona (or FiFi). He spent much time in the floor loving and getting love in return from our "tub of goo." Last week our hearts were broken (still are, in fact) over having to let Fiona go. I wrote a tribute to her here.
When I opened the envelope from Kase I found the following: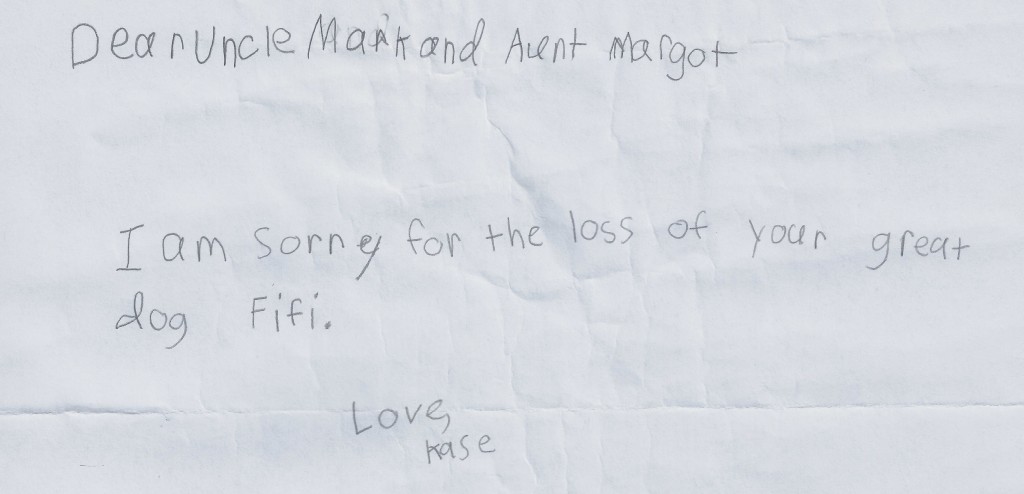 Kase wrote that from his concern for us and from his own sadness over FiFi. His words of encouragement are precious and tender. They lifted our spirits — he lifted our spirits.
This is a reminder to me of how much of an impact a simple note can have in the lives of others. In the era of email and text messages, a handwritten note really stands out. But whether handwritten or created any other way, uplifting words can make a difference in the life of someone you care about.
Thank you, Kase, for your sweet words. It helped us.
Who can you encourage today with a note?