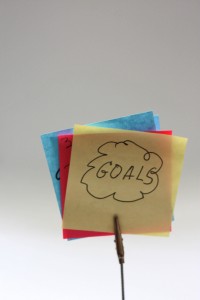 I have always been a goal-driven guy. To me it is exciting to set a goal and then work to achieve it. I have never regretted setting and accomplishing a goal. Looking backward I have sometimes regretted that there were goals I did not set, and therefore never achieved. For the most part, though, I have had no shortage of goals. I still do not.
My goals are usually well structured to include all of the necessary ingredients to conform to the SMART acronym:
Specific
Measurable
Actionable
Realistic
Time-bound
Sometimes, though, I allow the busy-ness of life to obscure my goals. The urgent often distracts me from my goals. At moments like this (in fact, this is now a moment like that) I try to simplify.
What is really important?

Why am I spending so much energy and time on the urgent instead of the important?

How can I clear the clutter, re-focus on the goal, and then zero in on the short-term objectives and next actions to make the goal possible?

What is the worst thing that will happen if I ignore the urgent?
These are not just questions I am asking myself. I invite you to share what works for you as well. I want to know how you deal with this. Please use the comments on this post to share your experience with me and our readers.
Like you, I have important goals to accomplish and only a limited amount of time to achieve them. It's time to get with the program.
Soon I will be posting the next article in the series "How I Lost 50 Pounds." Don't miss a post in that series. Subscribe to the Forward Story newsletter to be notified when new articles are posted. In addition, you will receive my free eBook 15 Questions to Change Your Life.