I recall as a kid being really excited about birthdays. What was not to love? My friends and family made a big deal out the fact that on that date some number of years before, I made my exit from one environment into another. I was the center of attention on that day each year. There were presents, there was cash, there were games, there was singing, and best of all, there was cake. Let them eat cake! What a great thing.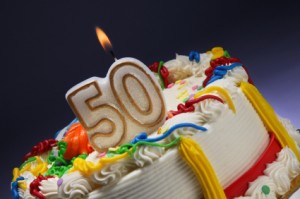 At some point in my adolescence I stopped getting so excited about birthdays. As an adult I observed the annual ritual with indifference as the various milestones clicked past like so many center stripes on a long road trip.
At 30 I remember feeling like a "real" adult.
At 40 I felt like I had gained some wisdom.
Now that I am 50, what do I think? What am I feeling?
According to the United Nations, the average life expectancy of an American male is 75.6 years. What does this mean to me?
The hypochondriac in me says that there are a lot of things that will probably get me well before 75.6.
The optimist in me says that I will live to be 100.
The realist in me says that this means I only have around 25.6 years left. Unless, of course, the Mayans are right (but that's another story).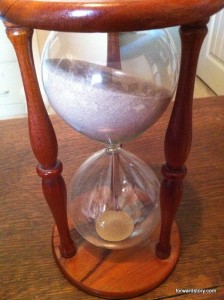 Which will it be? I have no crystal ball, so I have no idea. I am not losing sleep over it, either.
I began this blog on July 20,2010 with an initial post on narrative. Before now I have never promoted the blog. I have told a few people about it, and a few more have stumbled upon it, but I have not sought widespread readership. In the past 20 months I have written on a variety of topics all revolving around the idea that all people should be working on a story that looks forward, into the future. I call it a Forward Story.
As I celebrate my half century on the planet today I am taking the wraps off my plan to publish my first book in 2012 entitled Forward Story. While I have been sporadically writing the blog, I have also been working on the book. In writing style the book will be specifically targeted to young people up to their mid-20s, but it will have something to say to all of us, including those 50 and above. The fact is that regardless of your age, you need to have a story for where you are headed. Writing the book Forward Story has been a part of my personal Forward Story for a while now. This is the year to launch it.
This website will be the primary place to keep informed about the book. Feel free to subscribe to the RSS feed or otherwise bookmark forwardstory.com. You can also follow us on twitter at www.twitter.com/forward_story The exact timeframe for publication is not set, but I am committed to publication before the end of the year. In the meantime, feel free to poke around the site and join in the conversation.
Regardless of how many candles you will find on your cake this year, I hope you are writing a beautiful and meaningful Forward Story. Thanks for stopping by. Come back soon.
An Update: It took a lot longer than I hoped, but the book has arrived. You can get your copy here:

Forward Story: Write the Future You Desire