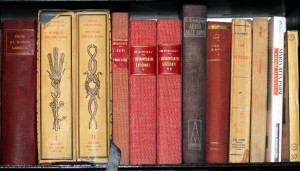 A given book is not always valuable to every person. A book that changes my life may bore you or not apply at all. This is why there is a marketplace for all types of writing.
With that disclaimer, I will list books that have made an impact on me and that may well be of help to you as well. This list will grow over the years, so please check back periodically. Also, please share the books that have meant a lot to you. Once I review your recommendation and agree that it is a fit, I will add it to this list.
Character Development
For Adults
 The 7 Habits of Highly Effective People: Powerful Lessons in Personal Change
 by Stephen R. Covey
The 15 Invaluable Laws of Growth: Live Them and Reach Your Potential
 by John C. Maxwell
A Touch of Wonder
 by Arthur Gordon
For Children
The Secret Garden
 by Frances Hodgson Burnett
A Symphony of Whales by Steve Schuch
Call It Courage
 by Armstrong Perry
For Teens
The 6 Most Important Decisions You'll Ever Make: A Guide for Teens
 by Sean Covey
Personal Finance
The Total Money Makeover: Classic Edition: A Proven Plan for Financial Fitness
 by Dave Ramsey
Thou Shall Prosper: Ten Commandments for Making Money
 by Rabbi Daniel Lapin
Health & Nutrition
Wheat Belly: Lose the Wheat, Lose the Weight, and Find Your Path Back to Health
 by William Davis, M.D.
Grain Brain: The Surprising Truth about Wheat, Carbs, and Sugar–Your Brain's Silent Killers
 by David Perlmutter, M.D.
Why We Get Fat: And What to Do About It
 by Gary Taubes
Relentless Nutrition Action Plan: Break the Diet Cycle, Smash Your Scale, and Take Pride in Your Health
 by Roger Dickerman
The Blood Sugar Solution 10-Day Detox Diet: Activate Your Body's Natural Ability to Burn Fat and Lose Weight Fast
 by Mark Hyman, M.D.
Treat Your Own Back 9th Ed (802-9)
 by Robin A McKenzie
Entrepreneurship & Business
Platform: Get Noticed in a Noisy World
 by Michael Hyatt
The Referral Engine: Teaching Your Business to Market Itself
 by John Jantsch
Maverick: The Success Story Behind the World's Most Unusual Workplace
 by Ricardo Semler
The New Power Base Selling: Master The Politics, Create Unexpected Value and Higher Margins, and Outsmart the Competition
 by Jim Holden
Writing & Art
The War of Art: Break Through the Blocks and Win Your Inner Creative Battles
 by Stephen Pressfield
Turning Pro: Tap Your Inner Power and Create Your Life's Work
 by Stephen Pressfield
On Writing: 10th Anniversary Edition: A Memoir of the Craft
 by Stephen King
The Writers Journey: Mythic Structure for Writers, 3rd Edition
by Christopher Vogler
Family & Relationships
The Road Less Traveled, Timeless Edition: A New Psychology of Love, Traditional Values and Spiritual Growth
 by M. Scott Peck, M.D.
Bringing Up Bébé: One American Mother Discovers the Wisdom of French Parenting (now with Bébé Day by Day: 100 Keys to French Parenting)
 by Pamela Druckerman
Teaching Your Children Values
 by Linda and Richard Eyre
Boundaries: When to Say Yes, How to Say No to Take Control of Your Life
 (Christian Emphasis) by Dr. Henry Cloud and Dr. John Townsend
Story / Narrative
The Hero with a Thousand Faces (The Collected Works of Joseph Campbell)
 by Joseph Campbell
The Power of Myth
 by Joseph Campbell
Hope and Despair: How Perceptions of the Future Shape Human Behavior
 by Anthony Reading
Productivity
Getting Things Done: The Art of Stress-Free Productivity by David Alen
Personal Kanban: Mapping Work | Navigating Life by Tonianne DeMaria Barry and Jim Benson