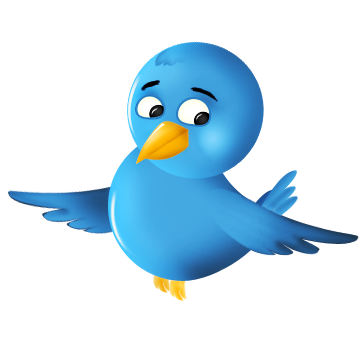 We took last Saturday off to celebrate the 4th of July with our family, but we are back today with more great info. Because of the week off, today's post is a little over twice as long as usual. We found some great stuff on a variety of topics.
Saturday is a good day to recap the activity from our Twitter feed from the past week. Not sure what Twitter is all about? That's OK. Neither are we (or at least it remains somewhat mysterious to us). There is no denying, however, that there is some very valuable information shared on Twitter. That is what this weekly feature is all about. Click the links below to check out the good stuff. Here are my Top Tweets from this past week, great for retweeting (whatever that is). If you missed these, follow Forward Story on Twitter.
By the way, if you are wondering what the @ and # signs are all about, these are Twitter's way to identify the Twitter handle (@) for the person who tweeted (for example, ours is @forward_story) and to allow for an indexing or categorization of the tweet by using one or more hashtags (#). Feel free to ignore these and just follow the link for the content we are sharing with you.
Here are a few recipes from people we trust:
Danielle Walker ‏@againstallgrain Jun 28
Homemade Gluten Free Chicken Nuggets #glutenfree #againstallgrain http://grainfree.ly/1JTHC2W
Danielle Walker ‏@againstallgrain Jun 28
Also- in need of pies and cakes for the weekend? These are all grain-free and dairy-free! … http://grainfree.ly/1IDx1VR
Danielle Walker ‏@againstallgrain Jun 28
Black Bottom Banana Cream Pie #paleo #glutenfree #againstallgrain http://grainfree.ly/1IYEu7A
Chris Kresser ‏@chriskresser Jul 7
Five delicious dairy-free 'milk' shakes. Cool off and indulge Paleo style. http://bit.ly/1LP1fKT
**********
Parenting
Great stuff for parents with adult children – 3 Tips for When Your Kids Move Back Home | Rachel Cruze: http://www.rachelcruze.com/topics/kids-and-money/3-tips-for-kicking-out-boomerang-kids#.VZRvRNmGxy_.twitter …
**********
Grandparenting
Susan Adcox ‏@grandparent Jun 28
10 mistakes to avoid when traveling with grandchildren: http://ow.ly/OT3Th @aboutdotcom
Susan Adcox ‏@grandparent Jul 3
Especially for grandparents: How to keep from going broke in the gift shop. My latest piece for @GRANDMMagazine: http://ow.ly/P9BDz
Susan Adcox ‏@grandparent Jul 5
Help for grandparents who have trouble saying no to adult children. http://ow.ly/PaLmC @aboutdotcom
Susan Adcox ‏@grandparent Jul 5
MT @grandmasbriefs: RT @NBCNews: A widow's reverse mortgage 'nightmare' http://nbcnews.to/1RUhjux
Susan Adcox ‏@grandparent Jul 10
Grandparents have seen this change, and it's not good! RT @aboutdotcom: Study finds little kids need to exercise more http://abt.cm/1IJtIkt
**********
 Medical, Health & Fitness
Chris Kresser ‏@chriskresser Jun 28
Chronic inflammation is believed to be a major risk factor for #osteoporosis. http://bit.ly/1R6S5c0
Chris Kresser ‏@chriskresser Jun 28
Virtually all skin disorders, including #acne, are inflammatory in nature. http://bit.ly/1LeMPV9
Mark_Sisson ‏@Mark_Sisson Jun 30
Why precommitment beats willpower. http://ow.ly/OZBMs
Amy Kubal ‏@AmykRd Jun 30
The benefits of going for a walk are about more than getting exercise http://www.theatlantic.com/health/archive/2015/06/how-walking-in-nature-prevents-depression/397172/ …
David Perlmutter, MD ‏@DavidPerlmutter Jun 30
Statins reduce libido. Read the science: http://www.drperlmutter.com/study/is-decreased-libido-associated-with-the-use-of-hmg-coa-reductase-inhibitors/ … #brainmaker #grainbrain
Digestible Tips for Staying Gluten-Free On-The-Go – Modern Wellness Guide http://www.modernwellnessguide.com/lifestyle/digestible-tips-for-staying-gluten-free-on-the-go
Forward Story ‏@forward_story Jul 1
This Is Your Body On Sleep Deprivation http://www.huffingtonpost.com/firas-kittaneh/this-is-your-body-on-slee_b_7663702.html …
Amy Kubal ‏@AmykRd Jul 1
Why Body Mass Index (BMI) Is Wrong for So Many People http://huff.to/1H035p0
Abel James ‏@fatburnman Jul 5
6 Easy Tips for Clean Eating on a Small Budget http://flip.it/l22jz
Amy Kubal ‏@AmykRd 7h7 hours ago
This is your body on alcohol: http://drugabuse.com/featured/the-effects-of-alcohol-on-the-body/ …
**********
Money
Experience Life ‏@ExperienceLife Jun 28
The Mirrors of Your Spending — How our most intimate sense of self & our use of #money reflect each other http://j.mp/1BH9LJw #values
**********
Wisdom / Productivity
Seth Godin ‏@ThisIsSethsBlog Jun 28
Seth's Blog: Buzzer management http://bit.ly/1GIZTvB
Michael Hyatt ‏@MichaelHyatt Jun 30
Why You Should Flush 90% of Your To-Do List Down the Toilet http://mhyatt.us/1ol0bFb
Experience Life ‏@ExperienceLife Jul 7
New job jitters? How to settle in with minimal stress — http://j.mp/1KKe8Xh #worklife #balance #stressmanagement